Menus
Meals, foods and beverages sold or served at schools meet state and federal requirements based on the USDA Dietary Guidelines.
All meals, foods and beverages are prepared and served by qualified child nutrition professionals. We provide students with access to a variety of affordable and appealing foods that meet the health and nutrition needs of students.
Click the TITAN logo or scan the QR code to view our menus!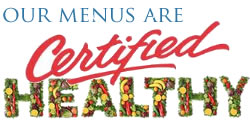 Certified with Highest Standards for Nutritious School Meals!
Mountain View School District has made a significant investment in improving the quality of school meals. Key enhancements include an increase in the availability of fruits, vegetables, whole grains, fat-free and low-fat fluid milk in our meals. We are also reducing in the levels of sodium, saturated fat and eliminating added trans fat in meals.


Click above for Special Meal Accommodation Information!
Click here for Medical Release Form for Food Allergies